---
Is there a Doc in the house?
I've taken fish hooks out of several people's bodies over the years, but Thursday was the first time I've had to remove one from myself.
Not that I haven't had hooks in me before. The first time was courtesy of buddy Bob Izumi. We were up on Great Bear Lake and the trout fishing was extraordinary. So good, in fact, that we didn't even want to stop to take a lure over to Doug Volpel, the cameraman who was standing in waders on top of a shoal, in the middle of the lake trying to get some underwater lure shots in the crystal clear water. Doug hollered for us to bring him a triple treble hook ladenned crankbait so he could swish it in the water below the camera. But Bob and I were catching a lake trout on almost every cast and we didn't want to take a time out.
Bob yelled back to Doug that he would tie on one of the cranks and cast it over to him, but it was a super long cast away. As a result, Bob put both hands on the rod and hauled back to make a monstrous country-mile-long cast. That is when it felt like I'd been hit on the head by a two-by-four.
Yep, he planted that crankbait smack dab on the top of my head and drove one of the trebles deep into my scull! Man, did it sting.
We were scheduled the next day to fly out to the Coppermine River for grayling and I didn't want to miss that trip—the resort wanted to fly me to a nearby nursing station—so, I had the boys snip off the treble and leave it in my head, figuring I'd get it removed later in the week when we passed through Edmonton on our way home.
But, wouldn't you know it,  when I got to the hospital in Edmonton the doctors couldn't find the hook. The boys had snipped it so close to my scalp that the treble had worked its way under the skin. So they had to take an X-ray to find it, then use a scalpel to slice into my head.
Ouch for a second time! (By the way, I still owe you for that one, Mr. Izumi.) Since that time, I've learned how to pop out deeply embedded hooks using the "looped line" method. It is a simple trick every angler needs to learn.
Which brings us to this past Thursday.
I was fishing by myself early in the morning for smallmouth using an X-Rap jerkbait. But it wasn't a bass that struck the bait. It was a snot rocket, hammerhandle pike of about 27-inches in length. When I swung him alongside the boat, however, I couldn't see the bait, so I knew he had swallowed it well. (By the way, I always hand land my pike and smaller muskies as they tend to twirl in the net and make a mess of things.) So, when I swung the fish alongside the boat, I put my hand over its head, placing my fingers directly behind the gills and brought him in. But this time, the pike had taken the lure so deeply, when I slid my thumb behind his gill flap, I felt the sharp rear treble slide right into my finger, right between the nail and the skin.
Ouch again.
Now, here was the predicament: My line from the rod was going into the fish's mouth, the hook was buried deeply in its gills and my thumb was attached to the rear treble. All I could do was squeeze the pike carefully, making sure it didn't thrash frantically, driving more hooks into my hand, while I grabbed the scissors lying on the floor of the boat. I carefully snipped the gills where they attach to the body, killing the fish. (Sorry, Mr. Pike, but it was either you or me, and as you discoverd very quickly, it wasn't going to be me. But if it is any consolation, you tasted pretty good that evening for dinner!)
Once I had my hooked thumb free, I cut the line and removed my hand from the fish. The treble was deeply embedded, so I cut off about two feet of 30-pound test braid from one of my rods and made a loop, tying the ends together using a triple surgeon's knot. Come to think of it, that was the appropriate knot to use! Then I looped the line around the embedded hook, pressed down on the eye of the hook and popped it free!  As a matter of fact, it went flying into the lake. It is such a clean, neat procedure that so efficiently and effectively removes a hook from your skin, you can barely imagine it.
I was going to make a short video to show you how to do it, in the event you have never had to perform this minor surgery, but then I found this link on the internet. It is extremely well done and you won't believe the guy when he intentionally jabs a hook into his arm to show you how to do it. Talk about taking one for the team—is this crazy or what!?! Give this short instructional video a look and then try the process, instead using a hook stuck into an orange. First, however, try to remove it using a pair of pliers and you'll see it is impossible. You'll do more damage and the hook will still be attached. Then use the "looped line" hook removal system. You'll be amazed how well it works.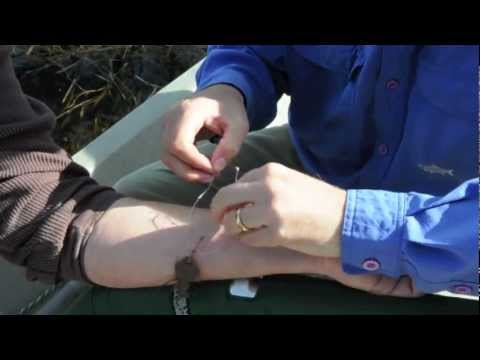 This is also why you must always wear sunglasses when you go fishing. Even if it is cloudy, overcast or rainy and you're not sight fishing. I have no problem removing a hook from any part of your, or my body for that matter, with one exception: Our eyes!
Although, on second reflection, there is one other spot I don't want one stuck…but we won't go there right now.
---